CPU temperature monitor tools are applications that help you check your CPU's temperature when they collect data from the different available sensors.
In an environment that is considered technologically complex, computer hardware resources are crucial, and when they are monitored, they reward the owner with reliable and continuous uptime. Regular monitoring also maintains peak performance and minimizes business risks.
Hardware monitors give you the value of some targeted properties like voltage and temperature, physical components like the CPU, the fans, the battery as well as the motherboard. Computer processors have the ability to endure hot temperatures, with new processors able to do up to 103 degrees Celsius without the CPU getting damaged.
In the same breath, however, the lifespan of the other components in the computer ends up getting affected because of the high temperatures. In this article, we are going to review the best CPU monitor tools that you can consider.
What is a CPU Temperature Monitor?
A CPU temperature monitor is a software tool designed to check the temperature of the CPU, the battery, fan speed, voltage, etc., and provide precise information. This vital information will help you come up with remedies to prevent CPU damage.
To be able to use these tools, you need to follow the following steps;
Download and install your preferred CPU temperature monitoring software on your Windows laptop or desktop.
Open the software on your PC.
Check the temperature and other vital information.
These tools will come with lots of useful features, including;
Gives real-time CPU temperature information
Some have the ability to check bandwidth and utilization.
Allows high customization levels
Provides data on the computer hardware
Who Needs a CPU Temperature Monitor?
The best CPU temperature monitors are important tools for everyone from gamers to everyday computer users like working professionals. This is because there are a lot of factors that can increase the CPU temperature, for example, dust, fan speed, high-performance apps, viruses, malware attacks, etc.
However, these CPU monitoring tools are specifically designed for;
Professionals who use their computers or laptops for hours. These people are also more likely to come across viruses from emails, networks, and the internet, which will raise the CPU temperature.
Gamers- These people use high-end video games that need high-performing computers and may easily cause the temperature to increase. Some gamers tend to replace some parts of the computer to make it more powerful, which can further increase the CPU temperature.
Graphic designers- These people also need high-performing devices to do their designs in less time. As a result, it may cause an increase in CPU temperature and load.
So, let's look at the best CPU temperature monitor tools to help you regulate your computer's CPU temperature and achieve peak reliability, longevity, and performance.
Best CPU Temperature Monitors
Image Source: solarwinds.com
This particular CPU load monitor comes accompanied by an Engineer's toolset. Because business networks are exposed to different viruses that can cause increased traffic and load on the routers, this monitoring tool has been specifically designed to handle even the most complex CPU loads.
With this tool, your CISCO routers will be effectively monitored and graphed in a concurrent manner. By so doing, you will always be ahead of your problems.
Features
It lets you set the alarm and warning thresholds for each device that you have connected.
It is able to monitor the load and the graph on many Cisco routers concurrently.
It is able to support SNMP v3 and IP v6.
It has a yellow load bar that represents instances where the load has reached the user-friendly threshold for warning. If the red bar lights, it represents a critical level
The Engineer's toolset is able to give you access to not less than 600 effective network management tools.
This toolset is an effective tool that you can use to manage an entire network. If you buy for only one single purpose of monitoring your CPU temperature, it might be a little expensive. Still, if you make use of its network troubleshooting abilities, it will be extremely valuable and worth every cent.
It has a 14-day trial that you can take advantage of before you commit to buying the premium paid version.
Image Source: computerhope.com
HW Monitor is a CPU temperature monitoring tool that is keen on voltages, fan speeds, and temperatures. It supports common sensor chips as well as many Winbond IC's. The robust hardware monitoring program allows you to read the PC system's health sensors. This can handle standard set chips.
It can also read on die-core thermal sensors, video card GPU temperatures, as well as die-core thermal sensors. It has an improved interface and reads the hard drive temperatures through SMART.
As one of the best CPU temp monitors that monitor CPU temperatures currently, HWMonitor supports Intel Alder Lake, the Z6xx platform, and DDR5 memory. It also uses the latest version of windows with AMD Ryzen 5300G and 5600G APUs.
Features
It has an amazing remote monitoring feature that can help you watch the sensors of a chosen device through a TCP/IP connection.
It has an added graph generator that can save monitoring data and help in generating logging graphs. You can later create these maps as bitmap files.
It is able to support interface customization like adding a sensor in the System Tray, making editable labels, and choosing a display mode by sensor type.
This CPU temp monitor tool is ideal for reading the computer's main health sensors like the fan speed, voltages as well as temperatures. It has two paid versions and a free version.
This tool adds hotspot temperatures and GDDR6 on the NVIDIA GPUs in the newest release. Furthermore, it works with both 32-bit and 64-bit versions. You can either download it as a zip file to unzip or a .exe file for setup and install it to ensure you get help monitoring your CPU's temperature.
The standard version goes for $22.48, while the Extended version goes for $39.40. You can test it for 30 free days before you buy it.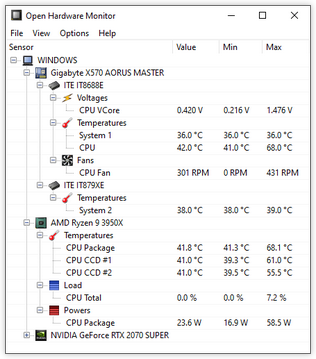 Image Source: openhardwaremonitor.org
Open hardware monitor is effective free software that supports Linux and Windows systems. To run it on the Windows System, you just need a .NET version 2.0 and above. On the Linux system, you will need to have Mono with WinForms.
It is pretty easy to install since you just need to unzip the archive and run the .exe file. Its source code is hosted on GitHub. Open Hardware Monitor runs on both 64-bit and 32-bit operating systems as well as Microsoft Windows XP, Vista, 7, 8, 8.1, 10, and x86 based Linux OS with no installation.
In addition, the Open hardware monitor can now detect ITE IT8655E, IT8686E, and IT8665E super I/O chips. It also improves the AMD GPU supports as well as the AMD GPU and CPU labels.
Features
It is an open hardware monitor that works really well on monitoring fan speeds, voltages, temperature sensors, and load and clock speeds on a computer.
It is able to display the temperatures of the SMART, hard drive
It is able to read the core temperature sensors of both AMD and Intel processors to effectively monitor the CPU temperature
It can work with different chips
The best thing about this software is the fact that it is entirely free and does not require you to pay.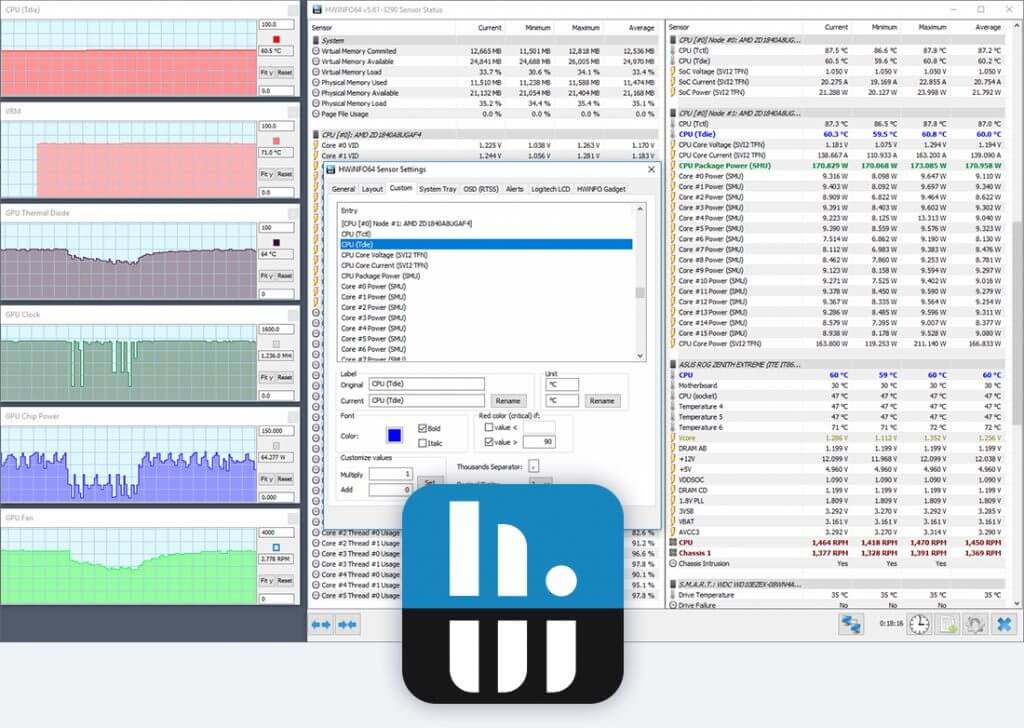 Image Source: hwinfo.com
This is one of the not-so-many CPU temperature monitor tools that offer a comprehensive hardware analysis with effective monitoring and reporting. With this software, you will be in a position to get in-depth hardware information about your computer.
It also has the ability to perform real-time health monitoring for your system with hardware parameters like GPUs, CPUs, peripherals, as well as drives and mainboards. It is free and supports DOS and Windows.
Features
It is able to detect overheating, performance loss, failure prediction as well as overheating.
It provides a clear and detailed inventory report.
It lets you customize your alerts on different parameters with well-monitored user-defined actions.
It offers extensive reporting with a quick summary overview and a full hardware hierarchy.
You can export the temperature results to HTML, CSV, and XML reports.
This hardware will provide reliable monitoring of different hardware-related parameters. It is able to provide you with credible information about the different hardware components and can be used in high radiation fields to monitor computer systems. It is completely free and does not require you to subscribe.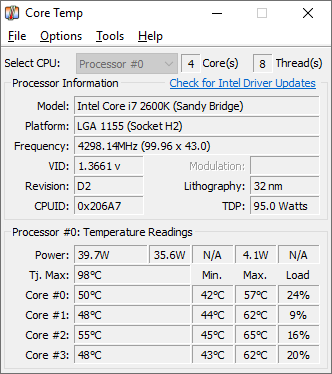 Image Source: alcpu.com
Core Temp happens to be among the most reliable CPU temperature monitor tools that you can rely on. It is a compact, simple, and yet powerful tool that you can use to monitor your processor temperature and other useful information. It has the ability to support Windows OS and Intel, VIA x86, and AMD processors.
As many major processor manufacturers have included Digital Thermal Sensors in their products, it is possible to get accurate higher resolution temperature information. The temperature readings will be extremely correct since there will be reliable data collection from the Digital Thermal Sensors.
Features
It lets you know the temperature of every core processor in the system
It is able to monitor temperature fluctuations in real-time
It has an amazing mobile phone application for Windows and Android devices that can be used to monitor the systems when you are not at home or in the office.
Every central processor comes with a Digital Thermal Sensor
This CPU temp monitor is customizable, easy to use, and expandable. You can use it to record temperatures and related statistics since it does not take a lot of space on your hard drive. Core temp is also free, and you do not have to pay for it.
You can download the Core Temp Gadget and Core Temp MC to improve the size, color, and information text. The latest version features a memory utilization, a graph view, and a listing processor temperature and load. Core Temp is easy to use and simple to allow you to perform customization and high-level expandability.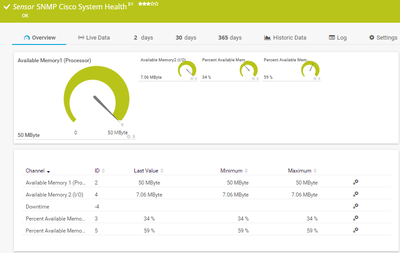 Image Source: paessler.com
Paessler CPU temperature monitoring is a program that ensures you can monitor the temperature of the PC with ease. It is also used to check the performance of the servers, switches, and routers. It is one of the best CPU temp monitor tools for Windows (free).
This is a straightforward CPU temp monitor that can help monitor the CPU's temperature, core voltage, etc. However, this all depends on your hardware. For instance, if your motherboard gives the CPU temperature info using SNMP, you can also set up the sensor to monitor temperatures.
Features
Customizable and flexible
Minimizes the CPU overload
Ensures the stability of the CPU
Provides dashboards and maps
Checks the performance and status of network components,
Measures the bandwidth usage.
You can try using this CPU temp monitoring program for 30 days for free. After that, you will be required to buy the full version, which comes with a full feature set.
Image Source: aida64.com
AIDA64 Extreme is another best CPU temperature monitor tool for Windows (free) that comes with a comprehensive hardware detection engine specifically designed for power users. If you're someone who likes to overclock their computers, you may like the advanced diagnostic function of the program.
Although users can download and install the 30-day free trial, you have to pay to get the full version. Since the temp monitoring program, AIDA64 Extreme is not a completely free program, you get to have a wide range of great features for monitoring your system.
Features
It allows you to view the temperature
See the read, write, and copy speeds.
Provides detailed information for running applications
Helps the power users to determine the best setting for overclocking
This software is compatible with both 32-bit and 64-bit versions of Windows. It displays the measured values on the Logitech G15/G19 Gaming Keyboard LCD, Razer SwitchBlade LCD, System Tray icons, Desktop gadget, and OSD panel. However, you need to have Intel Pentium or later processors, Windows operating system, and 80 MB free space.
Image Source: techpowerup.com
Real Temp delivers a streamlined view of the temperature of the CPU, including the individual core temp. However, this software will only support Intel Core-based processors and won't be able to work with AMD processors or Pentium 4 processors.
So, if you have an Intel Core processor, you can install the program on a Windows that is running from Windows 2000 to Windows 10. This program will also work with both 32-bit and 64-bit processors.
Features
Logs in the maximum and minimum CPU temperatures
Comes with a shutdown feature and a high-temperature alarm.
Uses test sensors.
As one of the best CPU temp monitors, Real Temp ensures proper temperature monitoring. Although it doesn't display additional information for the system info, it provides easier methods for viewing GPU and CPU temperatures.

Image Source: almico.com
Speed Fan provides convenient CPU temperature monitoring and other useful features. It works on all Windows versions ranging from Windows 95 to Windows 10 and also supports x86 and 64-bit processors. It monitors the fan speeds, temperatures, and voltages.
Features
Allows you to view and control fan speeds for compatible motherboards and processors.
Reduce the speed of fans until you can no longer hear the noise.
Displays the temperature of the system, individual cores and graphics card.
Advanced users can also find a variety of data and features for monitoring systems, including hard drive temperatures and access to smart, hard drive info.
Image source: ccleaner.com
Speecy, designed by the developers of CCleaner, is a free CPU temp monitor. It is designed to give information about the motherboard, graphics card, operating system, RAM, storage disks, CPU, and other hardware. This information includes the temperature of the key components like the motherboard and CPU.
This program is not as lightweight as the other best CPU temperature monitors in this list. It provides more information about the hardware installed on your computer.
Apart from the free version of Speccy, the company also provides a premium version with automatic updates and customer support. You can choose to go with the bundled package, including CCleaner, Defraggler, Speecy, and Recuva.
Features
Provides stats for the CPU, RAM, graphic cards, motherboard, etc.
Access to save your results on a text file and XML or take a snapshot to make it easy to share.
Check the specs of your PC and if there are any issues.
It helps boost the performance of computers.
While the free version will allow you to get advanced insights, you can buy the tool to ensure you get more features. You can become a pro in solving issues before they start to happen by checking the components of the PC.
Image Source: cputhermometer.com
The CPU thermometer supports both the 32-bit and 64-bit Windows operating systems that include Vista, 2008, 7, and 10. This lightweight monitor can also work with most Intel and AMD processors.
Unlike some hardware monitoring benchmarking tools, this one is quite easy to use. As one of the best CPU temperature monitor tools for Windows (free), it can help monitor your computer CPU temperature in real-time. This extensive hardware monitoring program shows live CPU temperatures in the desktop tray icon.
Features
A list of the CPU cores and the temperatures
Total CPU load capacity for every core
Allows you to set the maximum CPU temperature and a warning message or shut down the computer when the temperature gets to the maximum.
With this program, you can choose to show the CPU temperature in the tray rather than leave the window open.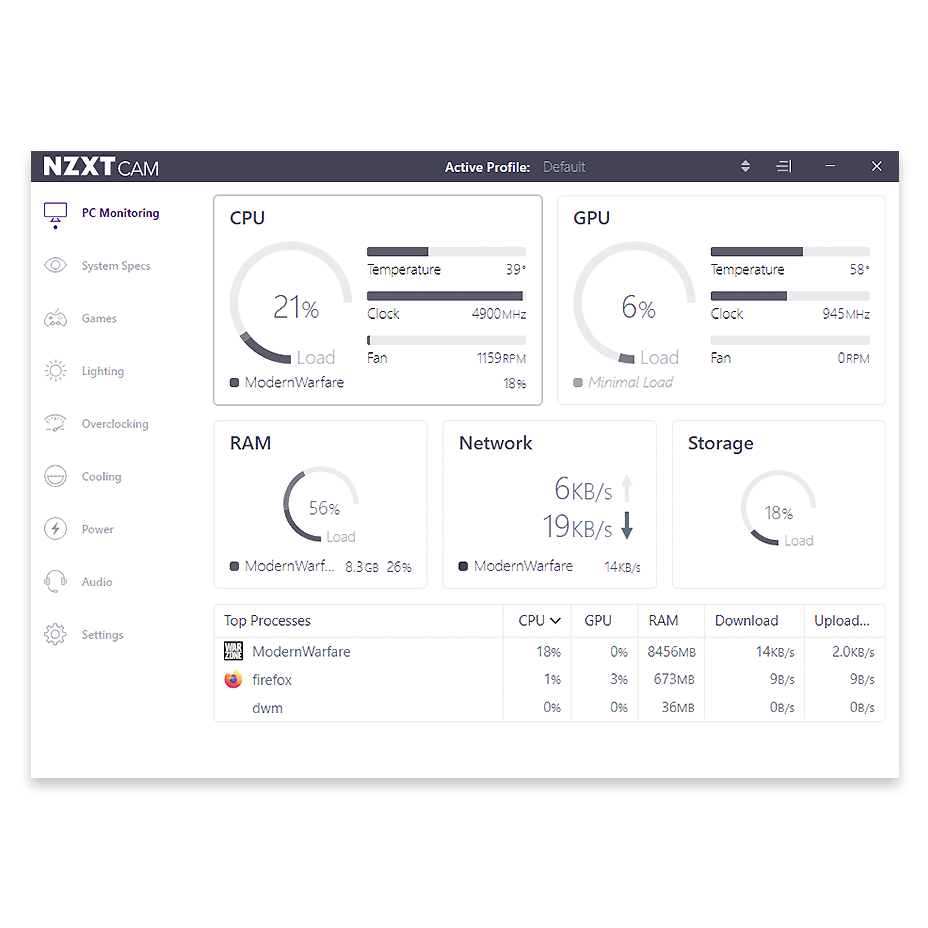 Image Source: nzxt.com
If you're looking for a monitoring tool for your gaming PC CPU temp, then you should consider this one. This program can manage devices, temperature, and performance from one single app.
It is very easy to use and fast with an efficient user interface. It provides you the ability to control everything that happens on the computer.
As one of the best CPU temp monitors, this program allows you to view whatever is happening on your computer. From the bandwidth consumption to the processor's load, you can be able to determine what is actually going on with your computer. This way, it can help monitor your CPU's temperature.
Features
Tracks temperatures, FPS, bandwidth, and more when you're gaming.
Supports GPU/CPU temperature, current FPS, GPU/CPU load, time played, etc.
Intuitive interface to control the case lights, voltages, fan speeds, and more.
Download NZXT (Next-gen) CAM software to start checking the CPU temperature and load with this CPU temperature monitoring program.
How To Check Your CPUs Temperature
Checking your CPU temperature is synonymous with checking your car's oil. It is not an everyday activity, but it is something that needs to be checked after every now and then end, especially if you strain your PC with too much load.
Fortunately, checking your CPU's temperature is quite easy, and you are not required to open it up and stick a thermometer inside. Every CPU is designed with a Digital Thermometer Reader that is inbuilt, and all you need is reliable software to check its measurements.
What Is Considered A Good CPU Temperature?
When your CPU is idle, it has a healthy temperature of under or above 50 degrees Celsius. When it has a higher load, and especially in instances it is playing a game or rendering a video, the CPU consumes more power and runs at a higher temperature. When your computer is under load, it is important to make sure that it is well cooled.
When under load, your computer should ideally stay under 80 degrees Celsius, although some laptops may run hotter. If it is over 95 degrees Celsius, consider it critical; it will start to throttle, which will mean that the clock might slow down to ensure that it does not overheat. Eventually, it might just turn off so that it can cool down.
If you are an advanced user, you will have the utmost confidence that the CPU is able to handle aggressive workloads even when they are stressed to 100% when you use a program like Prime95 or AIDA64.
When running a stress test, make sure that you keep a close eye on temperatures by using any of the tools mentioned above. Once you hit more than 95 degrees Celsius, back off lest you want to destroy your PC. An ideal stress test should be one hour long, with the maximum temperature time threshold being 10-15 minutes.
What CPU Temperature is Normal?
When it comes to CPU temperatures, there are three major categories including;
High- If you do intensive tasks that cause an increase in temperature and load, this temperature can increase to between 80 to 100 degrees. When at this temperature, the clock speed minimizes.
Average- Sometimes, if you use your computer for intensive tasks like editing, the temperature may be between 70 and 80 degrees.
Normal- This is a temperature between 45 and 50 degrees, especially when your computer is idle.
Checking The CPUs Temperature
Checking the temperature of your CPU is as easy as using a monitoring program and reading the values. There are many programs for this task (the best are explained above), and they work almost the same way, only that they might have different settings and features.
The first thing you need to do is to install the specific program you would like to use. Once the installation is complete, take some time and study the interface so that it is easy for you to use it.
Once you learn how to use the software, it will be pretty straightforward for you to learn how to check your CPU temperature. The only crucial thing you need to do is know the alarming temperature levels to be careful of.
What To Do If The Temperature Is Too High
If under load your CPU temperature is more than 80 degrees, it is important to check the system to make sure that the CPUs cooling is adequate. Here are the important considerations to look at:
If the PC has dust near the fan
The PC's age
The last time it had thermal paste applied between the CPU cooler and the CPU. If the period exceeds three years, you should consider reapplying.
If all the fans are spinning
For a laptop, it is possible that there is minimal cooling since it is not designed to be used under high loads for a long period. Many laptop brands have small cooling systems that are excellent for short-term performance sprints but not for long time gaming sessions.
Gaming laptops are, in many instances, bulky since they are packed with bigger and more powerful cooling systems.
If you are using a desktop and you feel like the cooling is inadequate, it is important to consider reapplying thermal paste after every three years. Applying the paste and cleaning the system offers relief to the machine as it offers much cooling power, which ends up translating to better performance.
Benefits of Using CPU Temperature Monitor Tools
1. Prevents Heat Damage
Excessive heat can cause damage to your CPU and also other parts of the PC. As a result, the PC may start to malfunction and shut down abruptly. The best CPU temp monitor is able to detect the temperature rise and allow you to take steps to stop the possible damages.
2. Improves the Durability of the Computer
If you ensure that the CPU is safe from excessive humidity, heat, and other damaging things, then you can increase the longevity of the computer. This can be done using a CPU temp monitor for monitoring your CPU's temperature.
3. Increases the Computer Performance
The computer performance may be affected by increased CPU heat. As a result, you tend to experience slower speeds and can work to affect your productivity. Therefore, using the best CPU temp monitor ensures that your computer runs at optimal speed.
4. Improve the Reliability of the Data Center
Great environmental conditions for any PC are necessary to achieve optimal reliability in a data center. These conditions will include recommended levels of humidity, power, temperature, etc. Therefore, you need to monitor all your server rooms using both external and internal sensors.
Additional Tips To Ensure Your CPU Stays Healthy
You need to always be careful when overclocking the CPU
Clean the computer system frequently, including the fans and room or desk where it is placed. This is to ensure that there is no dust in the system, which would further increase the CPU temp.
Ensure all your drivers are up to date to keep them working at optimal performance.
Remove the obstacles around the computer or laptop that may restrict airflow.
Ensure the computer is away from windows or vents that may attract dust particles.
Once a fan malfunctions, make sure you upgrade it.
Do regular malware scans to ensure malware, worms, or viruses won't build up.
Frequently Asked Questions About The Best CPU Temperature Monitor
1. How Do I See The CPU Temperature On The Desktop?
Your operating system does not have a temperature monitor. If you need to get the temperature, you will need to go to download a CPU temperature monitoring tool.
2. How Do I Check My CPU Usage?
In Windows computers, CPU usage is displayed as a live metric in the usage bar.
3. Why Is An Idle Laptop Displaying 70 degrees Celsius?
A CPU temperature of this nature is normal when the computer is active. When in idle mode, the temperature should be around 45 degrees Celsius. If a CPU has a really heavy temperature, it simply implies that it is loaded with background tasks.
Conclusion
Getting the best CPU temperature monitor is not only an investment for your PC but also for your well-being because it gives you peace of mind to know that your computer will never overheat without you noticing.
Since a CPU load monitor is also able to monitor the overall performance of your computer, you will also be kept in the loop about any performance issues it might have. The tool is a savior for your PC and its system since it only gives you the best overview.
Your PC will definitely improve on its performance, which means that your tasks will be done with less effort and better clarity.